The app used for assuring the GDPR/CCPA/APPI/PIPEDA compliance of this site, collects your IP and the email address in order to process the data. For more check
Privacy Policy & Terms of Service
Data Rectification
You can use the link below to update your account data if it is not accurate.
Data Portability
You can use the links below to download all the data we store and use for a better experience in our store.
Access to Personal Data
You can use the link below to request a report which will contain all personal information that we store for you.
Do not Sell My Personal Information
You can submit a request to let us know that you do not agree for your personal information to be collected or sold.
Right to be Forgotten
Use this option if you want to remove your personal and other data from our store. Keep in mind that this process will delete your account, so you will no longer be able to access or use it anymore.
real minero
First and foremost, Real Minero is a family business. The Ángeles family is a respected and beloved family in the mezcal making community of Santa Catarina Minas, Oaxaca, one of the most recognized villages for traditional mezcal in all of Mexico. Facing the public and leading the team is Graciela Ángeles Carreño. She is a pioneer in the mezcal industry, forging the path for agave conservation, preserving cultural heritage, and female leadership. It is impossible to overstate her contributions to the industry. Her brand, Real Minero, is one of the most recognized brands of authentic mezcal from Santa Catarina Minas, known for their ancestral production using clay pot stills. She comes from a long line of mezcaleros that have produced award winning spirits for generations. The current maestro mezcalero is her brother Edgar Angeles. Nearly all of their mezcals are rested in glass before being released. 
Proyecto LAM
In addition to producing world class mezcal, Real Minero is known for their commitment to sustainability. Their reforestation and nursery programs are responsible for rescuing varieties that were thought to be extinct, protecting them for future generations. This is the backbone of their Preyecto LAM which focuses on environmental responsibility. Named in honor of the late patriarch and maestro mezcalero, Lorenzo Angeles Mendoza (LAM), the project honors his commitment to and love of the natural world. The project has a scientific approach, documenting aspects like pollination, flowering,reproduction of plants, and viability of seeds, paying close attention to factors like climate change, with a goal of understanding how to protect the endemic agave species in a natural way. The information collected and synthesized is shared with other agave growers and follows the criteria established by the Mexican Association of Botanical Gardens. Agave by Montiel is proud to be working with Proyecto LAM. 
Mezcalosfera
Mezcalosfera by Mezcaloteca
Silvia Philion brought educational mezcal tasting to Oaxaca City through the bar that she co-founded, "Mezcaloteca." "Mezcaloteca", a combination of 'biblioteca' (library) and 'mezcal,'  continues to be the place for those who are equally thirsty for knowledge as they are for the delicious flavors of traditional mezcal. In addition to the intimate attention guests can expect from a visit to Mezcaloteca, what makes it so special is the collection of unique and limited bottles. The spirits are sourced from Silvia's travels and personal connections with producers, often yielding one-of-a-kind small lots. As a powerful woman in the agave world, she often sources from maestras mezcaleras, highlighting the many talents of women throughout the industry. Mezcalosfera is the export arm of Mezcaloteca, with the goal of sharing the limited releases of prized agave spirits with an international audience.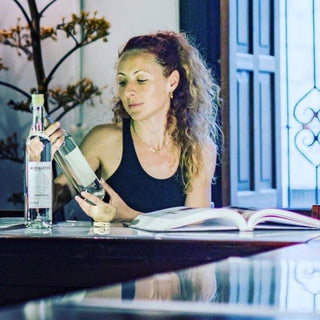 Agua del sol & Cuish
Félix Hernández Monterrosa founded Cuish, the mezcaleria, in Oaxaca in 2009. It was one of, if not the first centrally located, hubs for mezcal culture, art, and community, consistently offering some of the highest quality spirits available. In 2019 the brand expanded to export select bottlings of small batch agave spirits, each one carefully selected from producers and communities. Among the offerings, there are women distillers represented, highlighting the tradition of maestras mezcaleras from different regions. While just a handful of spirits are available in select markets around the world, Cuish is one of the most celebrated brands for both the sheer quality of what's in the bottle, as well as their commitment to being good community members.
Giving theemand of the two mezcalerías, as well as some additional agave projects, Felix and Adriana (wife) created Agua del Sol with the intention of using the brand to present tiny batches of mezcal to the world. we are proud to be the first ones bringing these precious tiny batches of mezcal to Europe.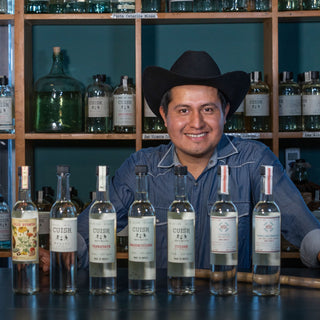 mezcal del amigo
Enrique Jimenez comes from a well known line of mezcaleros in Santiago Matatlan, Oaxaca. He is the maestro mezcalero for Fidencio Mezcal as well as Mezcal Del Amigo which is made from 100% estate grown espadin. The family is well known locally and recognized as keepers of tradition in their long standing heritage of making mezcal. The traditionally crafted mezcal is made in small batches as a family effort with Enrique's wife and daughters also working with him in the palenque. The bottles we source from the Jimenez family are always undiluted pure mezcal, offering an incredible value and friendly point of entry into the world of artisanal mezcal. As a testament to transparency, the details of production are proudly featured on the label of every bottle of mezcal. 
tequila ocho
Carlos Camarena is a living legend in the world of Tequila. He is a third generation distiller known as a master of his craft for distilling exceptional agave spirits. Tequila Ocho has been a benchmark Tequila since it launched, highlighting the terroir,or "sense of place"that agave conveys through its distillates. Unique among agave spirits, Tequila Ocho produces small lots from single plantations, similar to single vineyards for wine. This hyper focus on the growing conditions of the agaves provides insight into how agaves soak up flavor from the soil and air, as well as how the elevation of the plantations affects the final flavor. It would be difficult to find a Tequila better suited to agave spirit geeks than Ocho. Details aside, the Tequilas are consistently top scorers in competitions worldwide, and unanimously voted top of their class by experts. 
Tequila Cascahuin & siembra valles
Salvador 'Chava' Rosales is at the helm of the family business behind Tequila Cascahuin & Siembra Valles. The family traces their Tequila making heritage back to 1904, though the distillery was formally founded in 1956. Translating to 'mountain of light,' the brand focuses on sourcing the highest quality agaves and small scale, careful production. On any given day at least one family member is on site overseeing the production and strict quality control standards. One of Tequila's best kept secrets, the spirits produced under Chava Rosales are among the most authentic, best tasting, and highest value to be found.